5 Honored at General Counsel Awards
Thursday, November 3, 2016
Share this article: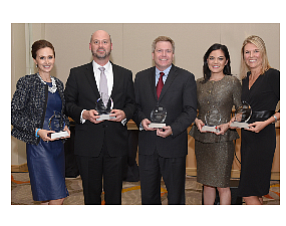 Some 400 attendees gathered at the Business Journal's seventh annual General Counsel Awards festivities on Wednesday evening at the Hotel Irvine.
Five winners came in four categories covering public and private companies and rising stars, as well as a new category for in-house legal team.
Honorees were:
• Craig Bryson, Abbott Medical Optics in Santa Ana (public company)
• Victoria Harvey, Smile Brands Inc. in Irvine (private company)
• Libby Stockstill, Billabong in Irvine (rising star)
• Christina Zabat-Fran, St. John Knits, Inc. in Irvine (rising star)
• The Legal Team at Western Digital Corp. in Irvine (in-house legal team)
The five were chosen out of 39 nominees.
Erwin Chemerinsky, dean of the University of California-Irvine School of Law was master of ceremonies.
Each of the honorees will be profiled in the Nov. 14 issue of the Business Journal.