Midday Stock Roundup
Wednesday, November 2, 2016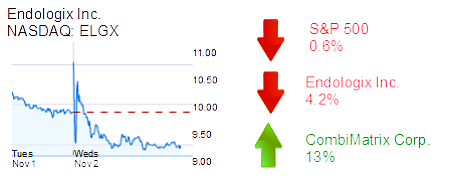 The S&P 500 was down 0.6% in midday trading to 2,099.18.
The Dow Jones Industrial Average was down 0.4% to 17,977.58.
The NASDAQ was down 0.8% to 5,114.40.
The yield on a 10-year Treasury bond fell 1.7% to 1.79%.
The price of gold rose 1.4% to $1,309.
HEALTHCARE
Irvine-based Endologix Inc. was down 4.2% to $9.48 and a $781 million market cap. The medical device maker reported a third quarter loss of $15.2 million on revenue of $52.1 million.
Irvine-based CombiMatrix Corporation was up 13% to $2.60 and a market cap of $6.2 million. The developer of genetic tests reported in its most recent quarter a narrower loss of $856,000 on revenue of $3.2 million compared with a $1.7 million loss on revenue of $2.5 million year-over-year.