Helicopter Operator Adds JWA Space
Wednesday, November 2, 2016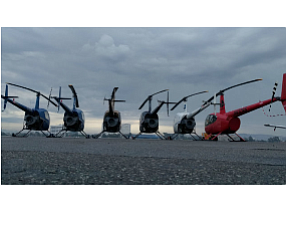 Revolution Aviation in Newport Beach has nearly doubled its space to store the company's aircraft at John Wayne Airport.
Revolution trains pilots to fly single-engine planes or helicopters, runs air tours of Orange County, and films aerial footage for corporate clients.
It has 3,000 square feet in a hangar and in October leased an additional 2,500 square feet of outdoor ramp space at JWA from Martin Aviation in Santa Ana.
"The hangar is like a garage," said Chief Executive Mark Robinson. "Ramp space is like a parking lot."
Revolution runs two single-engine planes and nine helicopters that it leases from and manages for owners. It plans to add two more helicopters by mid-2017.
It has a drone division and plans to buy a local drone operator to expand into film production for clients.
"We need someone who knows drones and can edit the video," Robinson said.
Revolution's air tours begin and end at John Wayne and it has applied for charter status from the FAA, which would allow the company to take-off from one airport and land at another, "like a taxi," Robinson said.
He said a regulatory decision on the company's charter status could come in about 12 to 18 months.
The company employs 15 people.