Midday Stock Roundup
Tuesday, November 1, 2016
Share this article: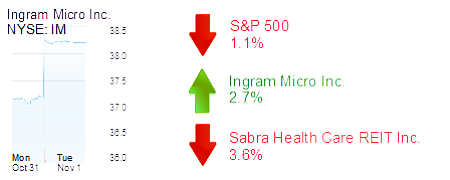 The S&P 500 was down 1.1% in midday trading to 2,103.86.
The Dow Jones Industrial Average was down 0.8% to 17,996.75.
The NASDAQ was down 1.1% to 5,130.90.
The yield on a 10-year Treasury bond increased 1.2% to 1.86%.
The price of gold rose 1.3% to $1,293.
TECHNOLOGY
Shares of Irvine-based Ingram Micro Inc. were up 2.7% to $38.20 and a $5.7 billion market cap. The technology products distributor received approval from U.S. regulators for its upcoming $6 billion merger with shipper Tianjin Tianhai Investment Company, Ltd. in Tianjin, China. Approval form the Chinese government for the deal is still pending.
HEALTH CARE
Irvine-based Sabra Health Care REIT Inc. was down 3.6% to $22.46 and a $1.5 billion market cap. The owner and manager of real estate leased to healthcare companies plans to release third quarter earnings after the markets close on Nov. 2.