Midday Stock Roundup
Tuesday, May 24, 2016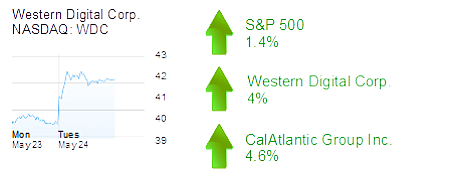 Indices rose in midday trading on gains in financial and technology stocks.
The S&P 500 was up 1.4% to 2,075.67. The Dow Jones Industrial Average was up 1.2% to 17,708.10. The NASDAQ was up 1.8% to 4,853.63.
The yield on a 10-year Treasury bond was up 1.9% to 1.87%.
The price of gold was down 1.8% to $1,230.
TECHNOLOGY
Irvine-based Western Digital Corp. was up 4% to $42.11 and a $12 billion market cap. Analysts at Cowen & Co. upgraded shares in the memory products maker to "outperform" with a price target of $50.
REAL ESTATE
Orange County homebuilders were up on a Commerce Department report that showed new home sales rising about 17% in April, compared with March, to a seasonally adjusted annual rate of 619,000 and the fastest space in eight years. The median price of a new home in April was $321,000, up almost 10% year-over-year and the highest level on record.
Irvine-based CalAtlantic Group Inc. was up 4.6% to $36.27 and a $4.3 billion market cap. Irvine-based Tri Pointe Group Inc. was up 6.4% to $11.71 and a $1.9 billion market cap. Newport Beach-based William Lyon Homes was up 6.7% to $15.63 and a $493 million market cap. Aliso Vieoj-based New Home Co. Inc. was up 6.5% to $9.80 and a $204 million market cap.
FINANCE
Orange County bank holding companies were up as financial stocks and Treasury yields rose. Investors were said to be expecting an interest rate increase next month, which is regarded as positive for banks.
The largest local banks by market cap, all in Irvine, were up. Opus Bank was up 1.5% to $37.63 and a $1.3 billion market cap. Banc of California Inc. was up 2.9% to $19.50 and an $854 million market cap. Pacific Premier Bancorp Inc. was up 3.1% to 24.44 and a $683 million market cap. Shares in other local banks and finance-related companies rose 1.5% to 3%.