Midday Stock Roundup
Thursday, May 5, 2016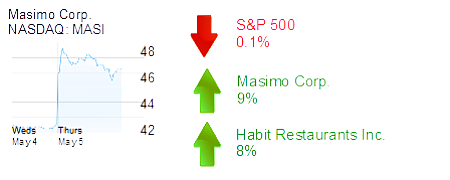 The S&P 500 was down 0.1% in midday trading to 2,049.01.
The Dow Jones Industrial Average was down 0.1% to 17,642.81.
The NASDAQ was down 0.1% to 4,719.43.
The yield on a 10-year Treasury bond was down 1.5% to 1.76%.
The price of gold was down 0.1% to $1,273.
HEALTHCARE
Irvine-based Masimo Corp. was up 9% to $46.30 and a $2.3 billion market cap. The medical device maker reported positive quarterly results and three analysts maintained or upgraded positive ratings with price targets of $50 to $57.
RESTAURANTS
Irvine-based Habit Restaurants Inc. was up 8% to $18.67 and a $492 million market cap on its quarterly report. The fast-casual burger chain beat expectations on profits and reported revenue and guidance in-line with expectations.