Quantum Fuel in Chapter 11 BK
Wednesday, March 23, 2016
Share this article: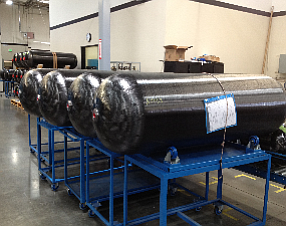 Lake Forest-based Quantum Fuel Systems Technologies Worldwide Inc. has filed for Chapter 11 bankruptcy protection.
The company is seeking a buyer through a "363" sale process, which is essentially an asset sale, according to a filing with the United States Bankruptcy Court for the Central District of California in Santa Ana.
Quantum secured a $6 million debtor-in-possession finance commitment from Douglas Acquisitions LLC, an affiliate of second position secured creditors, which must gain court approval.
The filing came after two debt defaults last week: Quantum said it failed to make a $2.7 million payment under its credit facility with Bridge Bank, which triggered a second default on $12.5 million in convertible notes which are secured by that second position lien on "substantially all of the Company's operating assets."
The company has hired Mackinac Partners LLC to help negotiate with creditors. It intends to continue day-to-day operations for customers, employees, vendors, suppliers and other business partners.
Investors sent shares down about 61% in afternoon trading to a market value of $4 million.
Quantum, which has shifted its strategy to primarily producing and selling natural fuel tanks, recently received a delisting notice from the NASDAQ, as its share price has traded under $1 since mid-November.
This latest development underscores the ongoing financial challenges facing energy-related companies as several have filed for bankruptcy the last few years.