Taco Bell to Open First Store in China
Wednesday, March 16, 2016
Share this article: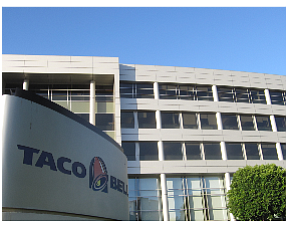 Irvine-based Taco Bell Corp. is planning to open its first store in Shanghai, China by the end of the year, said its holding company executives at the Bank of America Merrill Lynch Consumer and Retail Conference in New York on Tuesday.
Taco Bell is the only Yum Brands Inc. restaurant brand not yet in China. Most of its 6,400 stores are in the U.S. The other Yum portfolio companies, KFC and Pizza Hut, have a combined 6,700 locations in China, a market with a population of more than 1 billion.
Yum Chief Executive Greg Creed said placing Taco Bell in the market comes with low risk and low cost and that he should know quickly whether the Mexican quick-service foods will appeal to Chinese diners.
Yum restaurant brands have about 43,000 locations in 125 counties, generate about $13 billion in revenue, and have a $32 billion market cap.