Carl's Jr. Parent to Nashville
Wednesday, March 9, 2016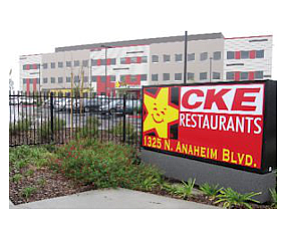 CKE Restaurants Inc.— based in Carpinteria, Calif., near Santa Barbara, but with a sizable presence in Anaheim, where it has its roots—is moving its headquarters to Nashville.
The company has four fast food chains: Carl's Jr. and Green Burrito, in Carpinteria, and Hardee's and Red Burrito, presently based in St. Louis.
Founder Carl Karcher ran restaurants in Anaheim starting in 1945 and opened the first Carl's Jr. in 1956.
The 17-acre Anaheim site—near the 91 Freeway and Anaheim Boulevard—had a 103,000 square foot distribution center and a 78,000 square foot office building when the company was headquartered there.
Karcher Family affiliates built a 90,000 square foot office building at the site in 2010 and owned a 26,000 square foot building on nearby Karcher Avenue. The buildings were sold, in 2009 and 2015, for about $26 million, total.
Carl's Jr. moved its headquarters to Carpinteria in 2002 but kept some operations in Anaheim. Distribution moved to Ontario when the land was redeveloped and CKE leased space in the new 90,000-square foot building. CoStar Group records show its lease runs through 2024.
CKE Restaurants was publicly traded for about 30 years, taken private in a $928 million deal in 2010, and sold to an affiliate of Roark Capital Group in Atlanta in 2013.
Roark holds stakes in about 32 companies, most focused on franchises and fast food, according to its website.