Gymnastics Competition, Trade Show to Honda Center
Tuesday, March 8, 2016
Share this article: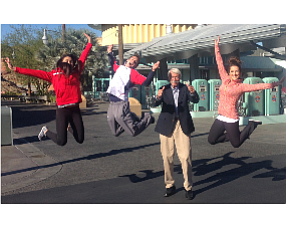 The Honda Center in Anaheim will host the 2017 P&G Gymnastics Championships and a meeting and trade show related to the event.
The competition—slated for Aug. 17-20—is a marquee event in the selection process for the men's and women's national teams to compete in upcoming world championships.
The USA Gymnastics National Congress and Trade Show will be held at the Anaheim Convention Center from Aug. 16-19, 2017.
The announcement this morning at Downtown Disney at the Disneyland Resort featured 2013-15 U.S. men's all-around champion and 2012 Olympian Sam Mikulak of Newport Beach, 2004 Olympic all-around champion Carly Patterson, 2012 Olympic team gold medalist Kyla Ross of Aliso Viejo, and gymnastics coach Bela Karolyi.
The Honda Center held the 2003 World Gymnastics Championships and the 2004 U.S. Olympic Gymnastics Team Trials.
The stadium has been home to the Anaheim Ducks since its inaugural season in 1993.
Anaheim's destination marketing organization Visit Anaheim last week said it had formed a division, Sports Anaheim, focused on attracting sporting events to the area.