Chapman Tops in Fulbright Scholars
Monday, March 7, 2016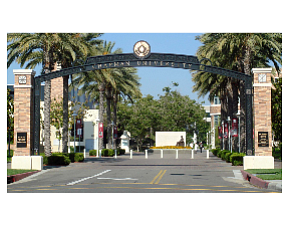 Chapman University has been named one of the top producers of Fulbright scholars for the 2015-2016 academic year. The U.S. Department of State's Bureau of Educational and Cultural Affairs recently announced the top producers in the Chronicle of Higher Education.
The Fulbright Program is the U.S. government's flagship international educational exchange program. More than 1,900 U.S. students, artists and young professionals in more than 100 fields of study are offered Fulbright grants each year to study, teach English, and conduct research. The Fulbright U.S. Student Program operates in more than 140 countries, and Fulbright scholars are selected based on their academic merit and leadership potential.
The three Chapman students who won Fulbright English Teaching Assistant awards are: Nimah Gobir, who will go to India; Megan McKeown, who will be traveling to Jordan; and Tiana Rees-Silva, who will travel to Taiwan.
Chapman's Fulbright competition is administered through the Fellowships and Scholar Programs office under the direction of Eileen Jankowski.