Midday Stock Roundup
Thursday, March 3, 2016
Share this article: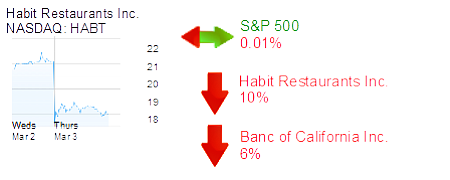 The S&P 500 was flat in midday trading at 1,986.76.
The Dow Jones Industrial Average was down 0.1% to 16,886.10.
The NASDAQ was down 0.7% to 4,697.70.
The yield on a 10-year Treasury bond was down 0.7% to 1.84%.
The price of gold was up 1.3% to $1,258.
RESTAURANTS
Irvine-based Habit Restaurants Inc. was down 10% to $19 and a $508 million market cap. The fast casual burger chain reported results that barely beat, and current-year guidance that came in below, analysts' expectations.
BANKING
Irvine-based Banc of California Inc. was down 6% to $14.83 and a $564 million market cap. The bank holding company priced an offering of 4.85 million shares at $14.50 a share. It intends to use the $70 million raised for "general corporate purposes and possibly to [pay down debt]."
TECHNOLOGY
Newport Beach-based Clean Energy Fuels Corp. was up 8.3% to $3.28 and a $297 million market cap. The natural gas station operator said it won a $10 million contract from New Jersey Transit to provide about 2 million gallons of fuel per year to 147 of the agency's buses. The company is set to report earnings after markets close today.
AGRICULTURE
Newport Beach-based American Vanguard Corp. was up 5% to $15.73 and a $459 million market cap on above-average volume. The chemicals maker shares have risen 25% since a positive quarterly and annual report this week.