PHG in Deals for AC Irvine, Tempe
Thursday, June 23, 2016
Share this article: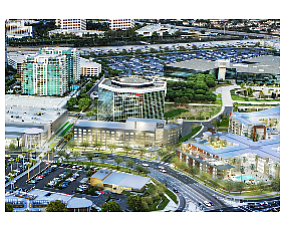 An affiliate of Irvine's Pacific Hospitality Group is in deals for two AC Hotels—a 176-room property currently under construction at the Park Place mixed-use campus near John Wayne Airport and a recently opened location in Tempe, Ariz.—from Woodbine Development Corp. and USAA.
It has closed on the Tempe location, which opened June 8, and is under contract to buy the Irvine property in conjunction with its opening, which PHG Chief Investment Officer Kory Kramer said is expected in December.
Financial terms of the deal were not immediately disclosed.
AC is a Marriott brand that targets "lifestyle" business and leisure travelers. The Irvine location is the brand's first in Orange County.
The deal marks the second and third AC Hotels acquired by Pacific Hospitality, a hotel operator that counts nine other properties in California, including several in OC, among its portfolio.
Last month it opened Huntington Beach's 250-room Paséa Hotel & Spa, part of the Pacific City development.
It paid about $60 million last September for the AC Hotel in New Orleans, its first acquisition of an AC Hotel property. The 159-room Tempe location it just acquired marks the company's entry into Arizona's hospitality market.
Most of Pacific Hospitality's hotels are higher-end or boutique offerings, located in what the company describes as hard-to-enter markets. Kramer said AC hotels in "urban top-tier markets" of Orange County and Phoenix fit the company's criteria.
Woodbine is a a Dallas-based hotel developer with local operations in Los Angeles; USAA is a San Antonio-based financial services company.
The partners began construction on the Park Place hotel late last year. The project is one of several developments moving ahead at Park Place, a 105-acre office, retail and residential campus next to the San Diego (405) Freeway and Jamboree Road.