PacSun BK Auction Canceled
Monday, June 20, 2016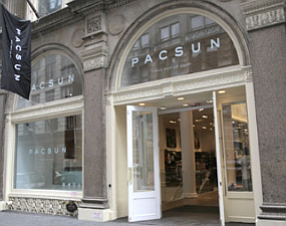 The bankruptcy auction for assets of Pacific Sunwear of California Inc. in Anaheim has been canceled, with San Francisco-based private equity firm Golden Gate Capital now set to acquire all of the retailer's assets.
The auction had been scheduled for June 22, but no bids were submitted by June 15 deadline, according to the documents filed with the U.S. Bankruptcy Court in Wilmington, Del.
The 593-store chain filed for bankruptcy in April and was looking for "a higher and better offer than that contained in the currently-filed plan of reorganization" with Golden Gate Capital, which will write off $58 million in debt in exchange for a 100% stake in the company.
The private equity firm is holding an additional $30 million in PacSun's debt and has offered another $20 million upon its emergence from Chapter 11 to "support its long-term growth objectives."
Wells Fargo Bank is providing $100 million in "debtor-in-possession" financing, which comes on top of $41 million PacSun already owes it.
The retailer, meanwhile, is looking to reduce its costs on store leases, which currently total about $140 million a year.
PacSun has "approached most of their landlords ... with requests for rent relief, and the potential for lease rejections if the debtors' rent relief requests are not entertained," according to court documents.
It also is looking "to retain the right to assume and/or reject leases post-confirmation" of its chapter 11 plan, an aspect that was met with objection from more than 20 of its landlords, including Dallas-based Centennial Real Estate Co., which runs MainPlace in Santa Ana.
PacSun lost $8.5 million on sales of $801 million in its most recent fiscal year, which ended Jan. 30.