Midday Stock Roundup
Monday, June 20, 2016
Share this article: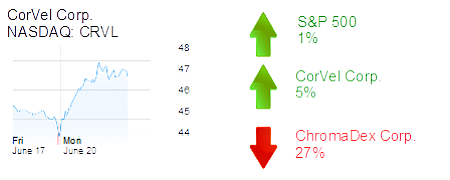 Indices were up in midday trading on news the United Kingdom looked more likely to remain in the European Union.
The S&P 500 was up 1% to 2,092.99.
The Dow Jones Industrial Average was up 1.1% to 17,872.94.
The NASDAQ was up 1.4% to 4,865.44.
The yield on a 10-year Treasury bond was up 3.5% to 1.68%.
The price of gold was down 0.3% to $1,291.
SERVICES
Irvine-based CorVel Corp. was up 5% to $47.60 and a $914 million market cap on moderate volume. The company provides workers compensation cost containment services.
HEALTHCARE
Irvine-based ChromaDex Corp. was down 27% to $3.36 and a $137 million market cap on very high volume. The ingredients maker had by midday traded shares at a rate about 15 times its 90-day average.