El Pollo Loco Signs Tucson Franchisee
Friday, June 17, 2016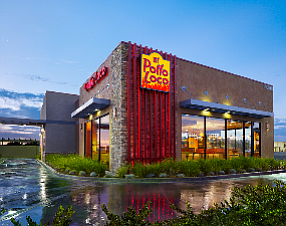 Costa Mesa-based El Pollo Loco Holdings Inc. signed PLM Restaurants LC in Ogden, Utah to open six new sites in Tucson, Ariz., by August 2019, and to buy the chain's two existing company-owned sites there.
The El Pollo Loco chain has about 435 company-owned and franchised fast food chicken restaurants in eight states.
PLM is owned by David Harper and Stephan Ralston. Harper franchises 82 Burger Kings in Utah, Idaho, Wyoming, Montana, North Dakota, Minnesota and Arizona under another company.
El Pollo Loco has said it seeks to sign experienced operators to franchise entire metro areas, mainly in the Southwest.
Fremont, Calif.-based AA Pollo Inc. in August 2014 agreed to open 20 locations in Houston and San Antonio; the franchisee operated more than 262 restaurants at the time, most of them Jack-in-the-Box locations.
Tucson also continues El Pollo Loco's practice of "re-franchising" company-owned sites when a multi-unit operator comes on-board. AA Pollo bought six El Pollo Locos in San Antonio when it signed to open the 20 new ones.
El Pollo Loco opened its first Tucson site in 2006 and a news report then said it planned seven more; the second site opened in March 2016.
The franchise fee for one restaurant is $40,000 and it costs between $900,000 and $1.8 million, excluding real estate, to open a location.
El Pollo Loco reported systemwide sales of about $750 million last year.