Midday Stock Roundup
Friday, June 10, 2016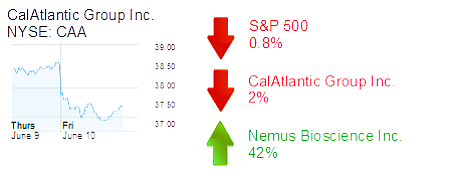 The S&P 500 was down 0.8% in midday trading to 2,098.54.
The Dow Jones Industrial Average was down 0.6% to 17,881.13.
The NASDAQ was down 1% to 4,906.00.
The yield on a 10-year Treasury bond was down 1.6% to 1.65%.
The price of gold was up 0.2% to $1,275.
REAL ESTATE
Orange County homebuilders were down amid uncertainty about whether the Federal Reserve Board will raise rates, which came following a poor May jobs report and forecasters lowering employment expectations for 2016.
Irvine-based CalAtlantic Group Inc. was down 2% to $37.43 and a $4.4 billion market cap. Irvine-based Tri Pointe Group Inc. was down 2.2% to $12.01 and a $2 billion market cap. Newport Beach-based William Lyon Homes was down 2.8% to $16.61 and a $539 million market cap. Aliso Viejo-based New Home Co. Inc. was down 2.9% to $10.41 and a $224 million market cap.
HEALTHCARE
Costa Mesa-based Nemus Bioscience Inc. was up 42% to 58 cents and an $11.5 million market cap. The company, which is developing therapies based on chemical compounds derived from cannabis, expects to license a patented process that derives the compounds synthetically—said to be faster than getting them from the plants themselves—from Tampa, Fla.-based Teewinot Life Sciences Corp.