Midday Stock Roundup
Friday, June 3, 2016
Share this article: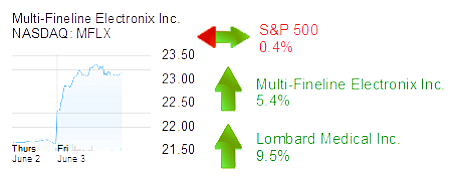 The S&P 500 was down 0.4% in midday trading to 2,096.99.
The Dow Jones Industrial Average was down 0.3% to 17,790.25.
The NASDAQ was down 0.7% to 4,938.46.
The yield on a 10-year Treasury bond was down 6% to 1.70%.
The price of gold was up 2.5% to $1,242.
TECHNOLOGY
Irvine-based Multi-Fineline Electronix Inc. was up 5.4% to $23.20 and a $572 million market cap on moderate volume. The U.S. Committee on Foreign Investment yesterday said it would take no action on the $610 million acquisition of the printed circuit board maker by China-based Suzhou Dongshan Precision Manufacturing Co. Ltd.
HEALTHCARE
Irvine-based Lombard Medical Inc. was up 9.5% to $1.38 and a $28 million market cap. The maker of endovascular stent-grafts for the repair of aortic aneurysms presented data yesterday from a five-year clinical study on aneurysm repair.
Costa Mesa-based Cerebain Biotech Corp. was down 10.4% to 90 cents and a $6 million market cap. The maker of products to treat Alzheimer's Disease had by midday traded shares at a rate twice its 90-day average.