Broadcom Shares Up on Outlook
Thursday, June 2, 2016
Share this article: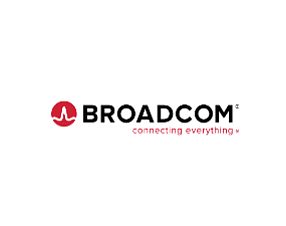 Shares of Broadcom Ltd. were up after the chipmaker announced adjusted profits in the May quarter that topped Wall Street expectations and gave a sales outlook for the current quarter.
The Singapore-based company, which has its U.S. headquarters in San Jose, posted revenue of $3.54 billion in the recently ended quarter, up 100% from a year earlier and in line with analyst forecasts.
Adjusted profits topped $1.1 billion, up 80.6% from a year ago. Wall Street was looking for $929.2 million.
Shares rose to a market value of about $64 billion.
The quarterly report was the first filed under Broadcom Ltd., which was formed in February after Avago Technologies Inc. acquired Irvine-based chipmaker Broadcom Corp. for $37 billion, creating the world's third largest chipmaker.
The company provided a revenue target for the July quarter in the range of $3.66 billion to $3.81 billion. Analysts on average are expecting sales of $3.71 billion.
Broadcom since the deal closed has slashed more than 700 employees at its Irvine campus, or roughly 30% of its local work force, and divested two units. It plans to sell one or more of the four midrise buildings at its new campus under construction at a 73-acre site at Great Park Neighborhoods that sits on the southern edge of the former El Toro Marine base.
The developments followed the ouster of nearly of all Broadcom Corp.'s management team, except for co-founder and Chief Technology Officer Henry Samueli, who retained his role and board seat.