WD Sales, Profits Down
Thursday, July 28, 2016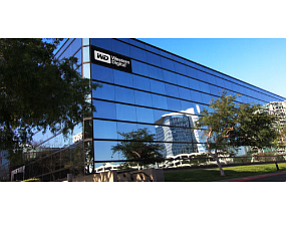 Irvine-based Western Digital Corp. reported lower annual sales and adjusted profits.
Sales dropped nearly 11% in the 12 months through June, the end of the company's fiscal year, to about $13 billion, compared to the prior year. Adjusted profits dropped 33% to $1.2 billion.
Shares were down about 12% in recent trading to a market cap of $13.3 billion.
Quarterly results showed some bright spots.
The world's largest disk drive maker reporter quarterly sales of $3.5 billion, up 9.5% from a year earlier and topping analyst forecasts of $3.45 billion. Adjusted profits of $208 million were down 5.4% from a year ago but above Wall Street targets of about $200 million.
The company said it sold 40.1 million hard drive units in the June quarter compared to 43.1 million units in the April quarter.
Chief Executive Steve Milligan called the fiscal year a "transformative" one as the company notched a blockbuster deal, gained a key regulatory approval, initiated a major restructuring, and battled tepid hard-drive demand and sagging global PC sales.
Western Digital in May closed its record $17 billion acquisition of SanDisk Corp. in Milpitas, in a bid for diversification in the volatile storage market.
The buy followed Chinese regulators finally approving its $4.8 billion integration of HGST—acquired in March 2012—which includes factories around the world and 41,000 employees. The long-waited approval will lead to annual operating expense savings of about $400 million, with additional unknown savings on costs of goods sold, the company has said.
The massive integration of SanDisk Corp. and HGST already has led to more than 500 job cuts in the past few months, and more are expected.
Its Silicon Valley outposts in Fremont and San Jose have taken the brunt of the latest cuts, according to filings with California's Employment Development Department.
HGST was based in San Jose, where Western Digital has its second largest operation behind its Irvine headquarters at Park Place near the San Diego (I-405) Freeway at Jamboree Road.
The Business Journal earlier reported that the company is slashing nearly 100 more jobs in Orange County—81 in Irvine and 18 in Santa Ana—as part of the SanDisk integration.