Midday Stock Roundup
Tuesday, July 26, 2016
Share this article: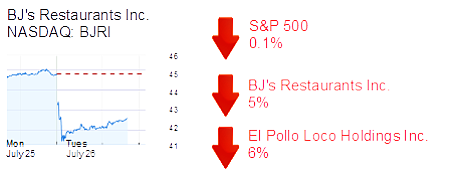 The S&P 500 was down 0.1% in midday trading to 2,167.16.
The Dow Jones Industrial Average was down 0.2% to 18,456.83.
The NASDAQ was up 0.1% to 5,104.67.
The yield on a 10-year Treasury bond was up 0.5% to 1.58%.
The price of gold was up 0.1% to $1,320
RESTAURANTS
Orange County restaurant stocks were hit by McDonald's Corp.'s lower-than-expected same-store sales and downgrades of two OC-based chains by Stifel Nicolaus.
Huntington Beach-based BJ's Restaurants Inc. was down 5% to $42.57 and a $1 billion market cap. Costa Mesa-based El Pollo Loco Holdings Inc. was down 6% to $13.04 and a $503 million market cap. Stifel downgraded BJ's to "sell" with a price target of $35; it downgraded El Pollo Loco to "hold."
Stifel didn't change its "buy" rating and $35 price target on Habit Restaurants Inc., but the Irvine-based fast casual burger chain's shares were dragged down by the sector decline: shares fell 3.6% to $16.27 and a $423 million market cap.
Lake Forest-based Del Taco Restaurants Inc. was down 2.5% to $10.65 and a $414 million market cap. Stifel doesn't cover Del Taco.
TECHNOLOGY
Irvine-based Western Digital Corp. was up 3.6% to $53.42 and a $12.4 billion market cap. The memory products maker is scheduled to report earnings on Thursday.