Midday Stock Roundup
Monday, July 25, 2016
Share this article: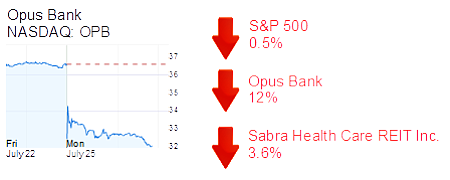 The S&P 500 was down 0.5% in midday trading to 2,165.28.
The Dow Jones Industrial Average was down 0.5% to 18,473.92.
The NASDAQ was down 0.2% to 5,092.29.
The yield on a 10-year Treasury bond was up 0.3% to 1.58%.
The price of gold was down 0.3% to $1,319.
FINANCE
Irvine-based Opus Bank was down 12% to $32.19 and a $1.1 billion market cap. The bank holding company said net income for its second quarter was $16.1 million, down 8% from $17.5 million in the same period last year. Its return on average tangible equity and average assets each declined year-over-year.
HEALTHCARE
Irvine-based Sabra Health Care REIT Inc. was down 3.6% to $23.20 and a $1.5 billion market cap. Bank of America downgraded the health facility owner's shares to "underperform."
Irvine-based Biolase Inc. was up 6.5% to $1.15 and a $70 million market cap on high volume. The dental laser maker is expected to report quarterly results Aug. 1.