Midday Stock Roundup
Friday, July 15, 2016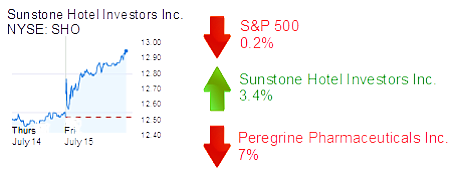 The S&P 500 was down 0.2% in midday trading to 2,159.24.
The Dow Jones Industrial Average was flat at 18,498.81.
The NASDAQ was down 0.2% to 5,026.35.
The yield on a 10-year Treasury bond was up 4.3% to 1.59%.
The price of gold was down 0.2% to $1,330.
REAL ESTATE
Aliso Viejo-based Sunstone Hotel Investors Inc. was up 3.4% to $12.89 and a $2.8 billion market cap. Canacord Genuity upgraded shares in the hotel REIT to "buy" from "hold" and raised its price target to $15 from $14.
HEALTHCARE
Tustin-based Peregrine Pharmaceuticals Inc. was down 7% to 40 cents and a $94 million market cap. The company lost $13.3 million in its most recent quarter on revenue of $18.8 million compared with a loss of $13.5 million on revenue of $9.3 million in the same period last year. Its annual loss widened to $60 million on revenue of about $45 million, compared with a $54 million loss on revenue of about $27 million in 2015. Peregrine is testing antibodies for cancer diagnosis and treatment and operates a contract, third-party manufacturer called Avid Bioservices Inc.