El Pollo Loco Debuts Design in Dallas
Wednesday, July 13, 2016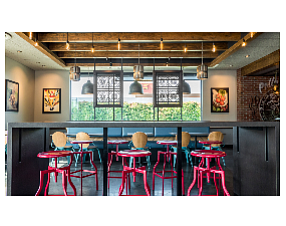 Costa Mesa-based El Pollo Loco Holdings Inc. will debut new design elements for its restaurants when it enters the Dallas-Fort Worth market in August with two franchised locations.
Franchisee Chicken Time Holdings LLC, an affiliate of Dallas-based Henry Investment Group, will open locations in the suburban cities of Allen and Bedford, as part of a franchise deal signed in May 2015.
The new sites will use brick, raw metals, concrete flooring, and street art, as well as fun posters, pops of color and graphic tiles that reflect the company's Mexican roots.
Chicken Time Chief Executive David Henry said the group plans to open six more sites and El Pollo Loco aims to open 20 franchised and company-owned restaurants in northern Texas within the next three to four years.
"We have been very vocal about our attraction to Texas and are thrilled to expand our presence," Steve Sather, president and Chief Executive of El Pollo Loco, said in a statement.
The restaurant franchisor and operator is the No. 3 OC-based restaurant chain. It had 2015 systemwide sales of $753 million and employs 750 locally and about 5,200 companywide.