Midday Stock Roundup
Friday, January 29, 2016
Share this article: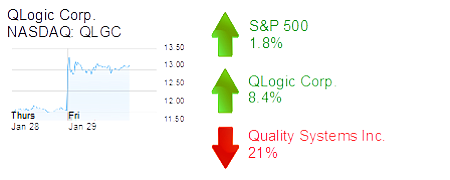 Indices were up on an interest rate cut today by the Bank of Japan that followed one last week by the European Central Bank, which, along with U.S. economic growth of 0.7% in the last quarter of 2015, could signal slower interest rate hikes by the U.S. Federal Reserve Board of Governors.
The S&P 500 was up 1.8% in midday trading to 1,927.02. The Dow Jones Industrial Average was up 1.9% to 16,373.23. The NASDAQ was up 1.6% to 4,579.30.
The yield on a 10-year Treasury bond was down 2.5% to 1.94%.
The price of gold was up 0.2% to $1,117.
TECHNOLOGY
Irvine-based Western Digital Corp was up 5.7% to $48.29 and an $11.2 billion market cap as its earnings beat analyst expectations. Its acquisition target SanDisk Corp. today received its third analyst upgrade in two days.
Aliso Viejo-based Microsemi Corp. was up 5.2% to $32 and a $3.6 billion market cap. The semiconductor maker's quarterly revenues beat expectations and Wells Fargo upgraded its shares to "outperform" from "market perform."
Aliso Viejo-based QLogic Corp. was up 8.4% to $13.06 and a $1.1 billion market cap. The networking products maker reported quarterly revenue and earnings that beat analyst expectations.
HEALTHCARE
Irvine-based Quality Systems Inc. was down 21% to $12.85 and a $782 million market cap on its quarterly report. The medical and dental practice software maker had by midday traded shares at a rate six times its 90-day average.