Midday Stock Roundup
Wednesday, January 27, 2016
Share this article: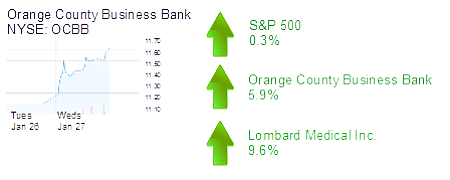 The S&P 500 was up 0.3% in midday trading to 1,908.68.
The Dow Jones Industrial Average was flat at 16,168.23.
The Nasdaq was down 0.6% to 4,538.88.
The yield on a 10-year Treasury bond was up 2.3% to 2.04%.
The price of gold was down 0.4% to $1,115.
FINANCE
Irvine-based Orange County Business Bank was up 5.9% to $11.67 and a $55 million market cap. The bank holding company's acquisition by Seattle-based HomeStreet Inc. for $55.3 million in cash and HomeStreet stock is expected to close this quarter. HomeStreet was up 12.8% in midday trading to a $481 million market cap.
HEALTHCARE
Irvine-based Lombard Medical Inc. was up 9.6% to 91 cents and an $18 million market cap on high volume. The stent-graft maker had by midday traded shares at about four times its 90-day average.