Pacifica Hotels Buys in DTLA
Monday, January 25, 2016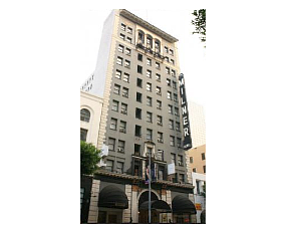 Pacifica Hotels bought the Milner Hotel in downtown Los Angeles from Milner Hotels Inc.
Irvine-based Pacifica is the hospitality arm of Invest West Financial Corp. a real estate developer in Santa Barbara.
Milner's website identifies the seller as a Kentucky corporation and shows it operates hotels in Boston, Detroit, and Raleigh, N.C., and owns an apartment building in Detroit. Several properties are, like the L.A. hotel, in older downtown historic buildings.
The Milner—which ran under the Ritz Milner name but is unaffiliated with Marriott Corp.'s Ritz-Carlton chain—is on S. Flower Street near Figueroa Boulevard, Staples Center and the Los Angeles Convention Center.
"With this acquisition we are excited … to contribute to Downtown L.A.'s extraordinary revival," Pacifica Chief Executive Matt Marquis said in a news release.
Hotel consultant Alan Reay of Atlas Hospitality Group in Irvine said Pacifica is likely to convert the Milner to its Wayfarer brand and a push into "urban hostels" that offer both "hotel-style" and "dorm-style" rooms with common areas.
"It's a new concept for Pacifica [and] I think they see tremendous opportunities," Reay said. "The model has done well in New York and San Francisco … cater(ing) to … the 'sharing economy.'"
The "sharing economy" includes travel-oriented firms such as Airbnb Inc., which rents individual homes for short-stay travelers, and transportation provider Uber Technologies Inc., both in San Francisco.
Pacifica owns other hotels in the Los Angeles area including four coastal properties near Marina del Rey. It sold a Hilton Garden Inn there in September to Florida-based REIT Chatham Lodging Trust for about $45 million.
It owns or operates 34 hotels in California, Hawaii and Florida.