Midday Stock Roundup
Friday, January 22, 2016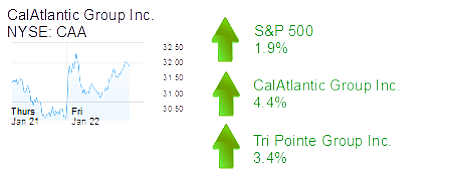 Indices were up in midday trading. Stock recovered ground lost this week as oil prices rebounded on news of winter storms in the Eastern U.S.
The S&P 500 was up 1.9% to 1,904.04. The Dow Jones Industrial Average was up 1.2% to 16,069.34. The Nasdaq was up 2.3% to 4,575.88
The yield on a 10-year Treasury bond was up 1.8% to 4,575.88.
The price of gold was down 0.2% to $1,096.
REAL ESTATE
Orange County homebuilders were up strongly as the National Association of Realtors said home sales grew nearly 15% in December. New mortgage rules in November had temporarily reduced sales. Americans bought 5.36 million homes in 2015, a 6.5% increase year-over-year and the highest total in 9 years; the median sales price was up about 7% last year.
Irvine-based Cal Atlantic Group Inc. was up 4.4% to $31.94 and a $3.7 billion market cap. Irvine-based Tri Pointe Group Inc. was up 3.4% to $10.26 and $1.6 billion market cap. Newport Beach-based William Lyon Homes was up 4.8% to $12.12 and a $362 million market cap. Aliso Viejo-based New Home Co. Inc. was up 3.4% to $10.03 and a $199 million market cap.