Business Journal Honors CFOs
Friday, January 22, 2016
Share this article: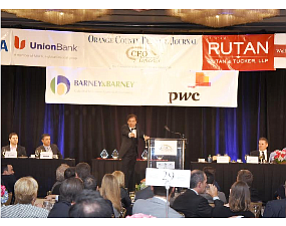 Orange County's top financial professionals were honored in five categories on Jan. 21 at the Ninth Annual Business Journal CFO of the Year awards dinner, which drew a crowd of about 600 to Hotel Irvine.
The five winners, selected from 37 nominees, are:
Liz Williams of Irvine-based Taco Bell Corp. in the public companies category;
Kent R. Crandall of Irvine-based MBK Real Estate Cos. for privately held companies;
Laurie Peterson of Santa Ana-based Big Brothers Big Sisters of Orange County & the Inland Empire in the not-for-profit organizations category;
Madhu Vijay of Newport Beach-based Aviation Capital Group Corp. for lifetime achievement;
and Gina Mastantuono of Irvine-based Ingram Micro Inc. as a rising star.
Murray Rudin, managing partner of Los Angeles-based Riordan, Lewis & Haden Equity Partners, served as master of ceremonies for the program, which acknowledged the pivotal roles CFOs play in organizations' growth and success.
Each honoree will be profiled in the Feb. 7 issue of the Business Journal.