Kia Shows Full-Size SUV Concept
Monday, January 11, 2016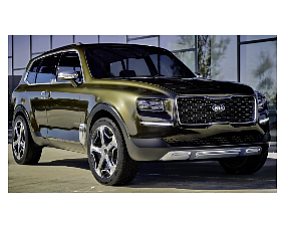 Irvine-based Kia Motors America Inc. showed a full-sized sport utility vehicle concept car called Telluride at the North American International Auto Show in Detroit.
There are no immediate plans to bring the Telluride to production but the automaker said, "Kia has a history of delivering production vehicles that bear strong resemblance to preceding concepts."
The three-row, seven-passenger, luxury SUV is "longer, wider and taller than the recently redesigned Sorento"—a crossover utility vehicle or CUV—with "advanced technology," Tom Kearns, chief designer at Kia Design Center America, also in Irvine, said in a statement.
The Telluride has a 'suicide-style' rear door—meaning it's hinged differently—four captain's seats that use sensors to record a passenger's vital signs; and a folded third-row bench.
Middle seats recline nearly flat and include large fold-away footrests and the data the seats collect can activate a system that adjusts lighting for the passenger.
Other new technology includes fingerprint-activated, push-button starting and a touch-sensitive feature on the center console that lets passengers in rear seats make media choices.
Kia's parent company, Seoul-based Kia Motors Corp., also on Monday, posted the official images of Niro—its first Hybrid Utility Vehicle, which is to debut at the Chicago Auto Show next month. The automaker's design centers in Irvine and Namyang, Korea led the styling of Niro.