Midday Stock Roundup
Wednesday, January 6, 2016
Share this article: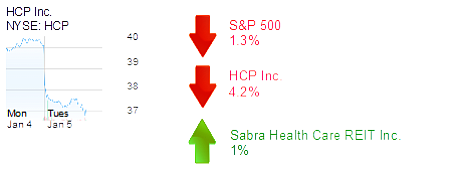 Indices were down at midday on a decline in oil prices.
The S&P 500 was down 1.3% to 1,990.90. The Dow Jones Industrial Average was down 1.5% to 16,907.98. The Nasdaq was down 1.2% to 4,833.36.
The yield on a 10-year Treasury bond was down 2.6% to 2.19%.
The price of gold was up 1.4% to $1,094.
HEALTHCARE
Irvine-based HCP Inc. was down 4.2% to $37.42 and a $17.4 billion market cap. Barclay's downgraded the REIT's shares to "underweight" with a price target of $37. Argus downgraded HCP shares on Monday.
Irvine-based Sabra Health Care REIT Inc. was up 1% to $21.16 and a $1.4 billion market cap. Barclay's upgraded the REIT's shares to "overweight" and set a $23 price target.
Irvine-based Masimo Inc. was down 1.6% to $38.63 and a $1.9 billion market cap. Raymond James downgraded the device maker's shares to "outperform."
Irvine-based ChromaDex Corp. was up 13% to $1.39 and a $152 million market cap. The "natural" ingredients maker by midday had traded shares at five times its 90-day average after it released a letter from Chief Executive Frank Jaksch on the company's 2015 performance and 2016 expectations.
RETAIL
Irvine-based western apparel retailer Boot Barn Holdings Inc. was down 9.6% to $11.12 and a $294 million market cap on moderate volume.
RESTAURANTS
Lake Forest-based fast food chain Del Taco Restaurants Inc. was down 3.6% to $9.94 and a $386 million market cap on moderate volume.