Kia Plans Self-Driving Car
Wednesday, January 6, 2016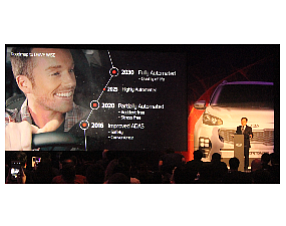 Kia Motors Corp. aims to bring an autonomous vehicle to market by 2030 built on its newly launched Drive Wise technology that includes advanced driver assistance systems and intelligent safety features.
The announcement at Mandalay Bay Resort and Casino was the Seoul-based automaker's first press conference at CES, the annual technology showcase in Las Vegas that's expected to draw more than 170,000 attendees from some 150 countries this week.
"The Kia of five or ten years ago is gone," said Orth Hedrick, vice president of product planning at Kia Motors America Inc. in Irvine. "Kia has come a far way in a short period of time and [a] key element in our transformation strategy has been technology."
The local unit reported record U.S. sales last year with 625,818 vehicles sold, up 7.9% from 2014. December sales of 54,241 vehicles were up 19% over the same period a year earlier, pushing Kia over the 600,000-unit mark for the first time in company history.
Kia's in-development autonomous driving technology is on exhibit at the Las Vegas Convention Center showroom floor this week and includes autonomous parking and pickup, highway lane shifting, busy and traffic-jammed city navigation, safe distance monitoring, and an emergency stop system, among other applications.
Kia also teased a new sports utilities vehicle concept that will be featured next week at the International Auto Show in Detroit.
The company plans to roll out 22 new models overall in the next five years, Hedrick said.
CES, the world's largest technology consumer show, officially kicks off today.