Midday Stock Roundup
Monday, January 4, 2016
Share this article: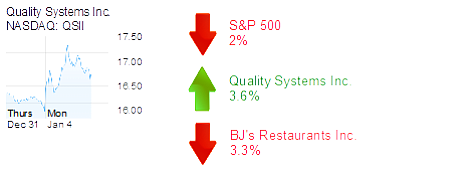 Major indices were down in midday trading on economic concerns in mainland China.
The S&P 500 was down 2% to 2,003.52. The Dow Jones Industrial Average was down 2% to 17,080.46. The Nasdaq was down 2.4% to 4,886.86.
The yield on a 10-year Treasury bond was down 2% to 2.23%.
The price of gold was up 1.4% to $1,075.
HEALTHCARE
Irvine-based Quality Systems Inc. was up 3.6% to $16.70 and a $1 billion market cap. Shares in the medical and dental practice information systems company were upgraded to "outperform" by Raymond James.
Irvine-based HCP Inc. was down about 1% to $37.97 and a $17.7 billion market cap. Shares in the healthcare facilities REIT were downgraded to "hold" by Argus Research.
RESTAURANTS
Huntington Beach-based BJ's Restaurants Inc. was down 3.3% to $42.03 and a $1 billion market cap. Shares in the casual dining chain were downgraded to "market perform" by Oppenheimer.
AGRICULTURE
Newport Beach-based American Vanguard Corp. was down 12.6% to $12.25 and a $357 million market cap. The specialty chemical maker's shares were downgraded to "underweight" by Piper Jaffray, with a price target of $11.