Midday Stock Roundup
Wednesday, February 17, 2016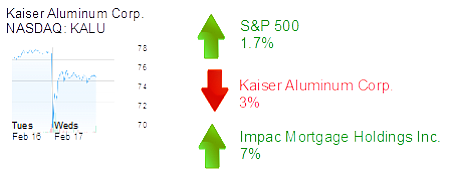 Indices were up as oil producers pushed for production caps and oil prices rose.
The S&P 500 was up 1.7% to 1,926.84. The Dow Jones Industrial Average was up 1.6% to 16,450.58. The NASDAQ was up 2.1% to 4,529.35.
The yield on a 10-year Treasury bond was up 3% to 1.83%.
The price of gold was down 0.1% to $1,207.
MANUFACTURING
Foothill Ranch-based Kaiser Aluminum Corp. was down 3% to $75.40 and a $1.3 billion market cap after a disappointing quarterly report. The metals maker missed analyst expectations on revenue and earnings as it swung to a loss in 2015.
FINANCE
Irvine-based Impac Mortgage Holdings Inc. was up 7% to $16.29 and a $168 million market cap on moderate volume.
HEALTHCARE
Irvine-based Lombard Medical Inc. was up 31% to 84 cents and a $17 million market cap. The maker of stent-grafts for treating aortic aneurysms reports quarterly results Monday.
Irvine-based CombiMatrix Corp. was up 8% to $5.80 and a $5 million market cap. The DNA-testing company said it had regained compliance with NASDAQ minimum listing requirements.