Midday Stock Roundup
Monday, February 8, 2016
Share this article: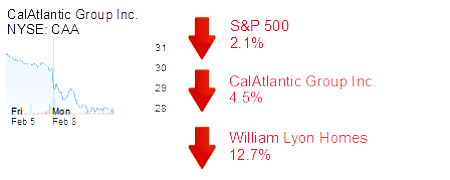 Indices were down sharply in midday trading on a drop in oil prices and a technology industry sell-off.
The S&P 500 was down 2.1% to 1,840.46. The Dow Jones Industrial Average was down 2.1% to 15,869.13. The NASDAQ was down 2.7% to 4,246.22.
The yield on a 10-year Treasury bond was down 4.7% to 1.76%.
The price of gold was up 3.3% to $1,196.
REAL ESTATE
Orange County homebuilders were down in the broad market decline.
CalAtlantic Group Inc. was down 4.5% to $28.70 and a $3.4 billion market cap. Credit Suisse analysts maintained an "outperform" rating on the builder's shares. Irvine-based Tri Pointe Group was down 3.9% to $9.18 and a $1.4 billion market cap. Newport Beach-based William Lyon Homes was down 12.7% and a $272 million market cap. Aliso Viejo-based New Home Co. Inc. was down 4.7% to $7.97 and a $156 million market cap.