Taco Bell Q4 Profit Down in Up Year
Thursday, February 4, 2016
Share this article: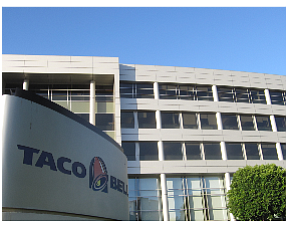 Irvine-based Taco Bell Corp. fourth quarter operating profit fell 4.3% to $152 million, compared with the same period last year, while full-year operating profit increased 12% to $529 million.
The fast food chain's parent, Yum Brands Inc. in Louisville, Ky., said Taco Bell same-store sales grew 7% in the quarter and 8% for the full year. Taco Bell opened 109 stores in the quarter and 276 in 2015.
Yum also owns the KFC and Pizza Hut restaurant chains. Taco Bell ranked below KFC and above Pizza Hut in operating profit for both the quarter and the year.
Yum overall earned $275 million in the quarter, compared with an $86 million loss in the same quarter last year, and $1.29 billion for the full year, up 23% compared with 2014.
Shares in Yum closed today at a market cap of about $31.2 billion.