All-Time High for JWA 2015
Tuesday, February 2, 2016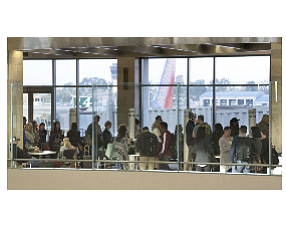 John Wayne Airport served more than 888,000 passengers in December, tipping its passenger count for all of 2015 total passengers to an all-time high.
The month's increase came to 10.5% over a year earlier, and pushed the facility's annual gain to 8.5%, with 10,180,258 passengers for all of 2015.
JWA's prior record was 9.98 million passengers in 2007, just before the recession took full hold here and nationally.
There were about 3,600 commercial flights in December, up about 12% from the same month in 2014. The full year 2015 saw more than 40,000 commercial flights, up about 5% year-over-year.
International passengers in December totaled about 36,000—up 74%—and the number of international flights was 163, up 66%.
Full-year passenger numbers for international flights—which declined 27% to 277,000 from 2013 to 2014 after the departure in mid-2014 of a low-cost carrier based in Mexico—rebounded about 17% to 325,000 on the strength of routes to Mexico added in 2015 by Southwest Airlines and Alaska Airlines.