Midday Stock Roundup
Thursday, December 29, 2016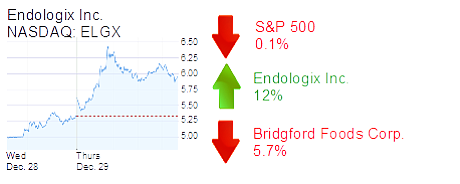 The S&P 500 was down 0.1% in midday trading to 2,246.65.
The Dow Jones Industrial Average was down 0.1% to 19,810.45.
The NASDAQ was down 0.3% to 5,420.71.
The yield on a 10-year Treasury bond fell 1.7% to 2.46%.
The price of gold rose 1.5% to $1,158.
HEALTHCARE
Endologix Inc. in Irvine was up 12% to $5.99 and a $503.6 million market cap on very high volume. The company said it immediately resumed shipping its AFX Endovascular AAA System and some sizes of the AFX2 Endovascular AAA System medical devices. It announced on Tuesday a temporary hold on shipments due to a manufacturing issue.
MANUFACTURING
Bridgford Foods Corp. in Anaheim was down 5.7% to $11.15 and a $101 million market cap on above-average volume. It makes frozen and snack food products. Shares in the company are up 27% year-to-date.