Accountancy Promotes Partners
Tuesday, December 27, 2016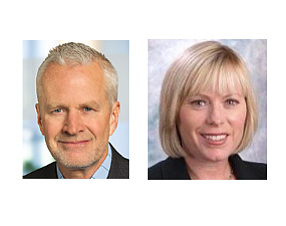 BDO USA LLP in Irvine named Joe Johnson its West Region managing partner and Kristen McCarthy to succeed Johnson in his former role of Orange County assurance managing partner.
Former West Region Managing Partner Christopher Tower was named national managing partner for audit quality and professional practice.
Johnson will report to Chief Operating Officer Steve Ferrera and Tower now reports to Chief Executive Wayne Berson.
BDO is the ninth largest accounting firm in Orange County with 54 certified public accountants and a total of 155 employees at its Irvine office, according to Business Journal research. The Chicago-based firm has about 6,200 workers companywide.
Johnson has some 30 years of experience for public and private company clients in consumer and retail, restaurants, life sciences, healthcare, manufacturing and distribution, and specialty finance. He's on the BDO board of directors, where he chairs the Partner Matters committee.
McCarthy 27 years of public, private and nonprofit accounting work includes stints with KPMG LLP and Hughes Electronics, a Fortune 50 company, in addition to BDO, where she's worked for the last 19 years. Her foci have included the technology, manufacturing and distribution, real estate, and service industries.
She's a member of BDO practices that cover manufacturing and distribution, and consumer products.