Fashion Island Unveils Chatbot
Tuesday, December 13, 2016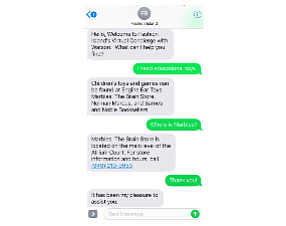 Fashion Island launched a concierge chatbot that helps shoppers find a specific brand, store or service offered at the outdoor mall in Newport Beach.
The "At Your Service" software communicates with users via text messages and questions sent to 949-734-7364. The chatbot uses IBM Watson's cognitive computing and machine-learning technology and can produce better answers as shoppers continue to use it.
"We believe our guests not only will find this mobile concierge incredibly helpful, but also appreciate the seamless access to fast information," Irvine Company Retail Properties Chief Marketing Officer Easther Liu said in a statement. "Think of it as an enhanced directory right at your fingertips."
Mall of America in Bloomington, Minn., also announced its Experiential List Formulator bot, which shoppers can communicate with via Facebook Messenger or a dedicated website.
New York-based Satisfi Inc. developed both platforms and said Fashion Island was the first U.S. shopping center to use the text message bot.
"It's incredibly exciting to see this being piloted across a broader retail environment," said Satisfi co-founder and Chief Executive Don White. "It will really help to create a more personalized experience for Fashion Island shoppers."
Fashion Island, which has about 170 tenants, generated an estimated $700 million in taxable sales for the 12 months that ended June 30.