Midday Stock Roundup
Monday, December 5, 2016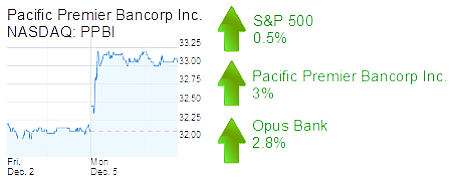 The S&P 500 was up 0.5% in midday trading to 2,203.84.
The Dow Jones Industrial Average was up 0.2% to 19,215.86.
The NASDAQ was up 0.9% to 5,304.29.
The yield on a 10-year Treasury bond fell 0.3% to 2.38%.
The price of gold fell 0.8% to $1,166.
BANKING
Shares in Orange County banks rose on three days of increases in long-term Treasury bill rates and comments by a Federal Reserve Bank president that an increase in short-term interest rates is desirable.
Pacific Premier Bancorp Inc. in Irvine was up 3% to $33.05 and a $914 million market cap. Opus Bank in Irvine was up 2.8% to $22 and an $867 million market cap. Banc of California in Irvine was up 5% to $15.60 and a $776 million market cap. First Foundation Inc. was up 3.8% to $28.90 and a $472 million market cap.
Pacific Mercantile Bancorp in Costa Mesa was up 4% to $6.30 and a $145 million market cap. California First National Bancorp was up 2.5% to $14.60 and a $150 million market cap.
MANUFACTURING
Metals manufacturer Kaiser Aluminum Corp. in Foothill Ranch was up 2.5% to $84.85 and a $1.5 billion market cap on moderate volume.