Midday Stock Roundup
Friday, August 19, 2016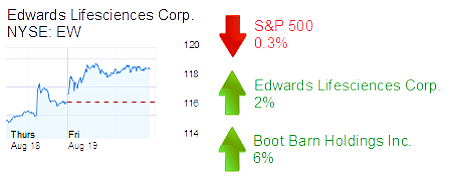 The S&P 500 was down 0.3% in midday trading to 2,180.39.
The Dow Jones Industrial Average was down 0.3% to 18,537.88.
The NASDAQ was down 0.2% to 5,229.81.
The yield on a 10-year Treasury bond was up 3.7% to 1.59%.
The price of gold was down 0.8% to $1,346.
HEALTHCARE
Irvine-based Edwards Lifesciences Corp. was up 2% to $115 and a $25.5 billion market cap. The FDA approved expanded use for the device maker's Sapien 3 transcatheter heart valve and Morgan Stanley reiterated its "buy" rating on company shares with a price target of $140.
RETAIL
Irvine-based Boot Barn Holdings Inc. was up 6% to $12.90 and a $341 million market cap on moderate volume. The company runs a chain of western apparel stores.
TECHNOLOGY
Newport Beach-based Clean Energy Fuels Corp. was down 7% to $4 and a $529 million market cap on profit-taking after a week of price increases and shares that traded at a rate twice the natural gas station operator's 90-day average.
Aliso Viejo-based Smith Micro Software Inc. was down 8% to $2.40 and a $29.5 million market cap. The software maker completed a 1-4 reverse stock split this week to bring its shares above the NASDAQ market's $1 minimum listing price.