ASICS Americas Sales Down
Thursday, August 11, 2016
Share this article: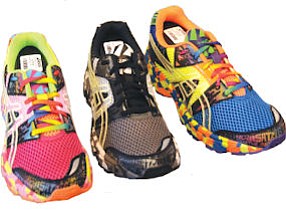 ASICS America Corp.'s sales in the first half of its fiscal 2016 declined 17.3% compared to same period last year, according to its parent, Japan-based Asics Corp.
The Irvine-based footwear and apparel company, which oversees markets in North America and Brazil, posted $581.6 million in revenue from Jan. 1 to June 30, down from the $703 million it had a year earlier. Its operating income dipped 84% to $7 million.
ASICS cited the "effect of changes in the retail market and intensifying competition in the U.S.," and "recording of allowance for doubtful receivables, despite efforts to reduce advertising expenses and other expenses" as factors influencing its bottom line.
The running products category was down 16.2%; training shoes and apparel dipped 33%; "core performance sports," which includes volleyball and tennis shoes and apparel, decreased 22.9%; and its lifestyle footwear—Onitsuka Tiger and ASICS Tiger—were down 3.6%.
ASICS Corp. reported $2.06 billion in total revenue, a 5% year-over-year decrease. Its earnings totaled $116 million, an 18% dip. Its sales at home in Japan fell 3.4%, while the Europe region dipped 1.8%. The Oceania, South East and South Asia market was up 12.5%, and East Asia sales rose 9.8%.
It anticipates full-year revenue to decrease 6% to $3.9 billion, while its net income should be 132 million, a 31% uptick. Revenue for ASICS America is projected to reach $1.09 billion, a 17.9% decrease from fiscal 2015.