Midday Stock Roundup
Thursday, August 4, 2016
Share this article: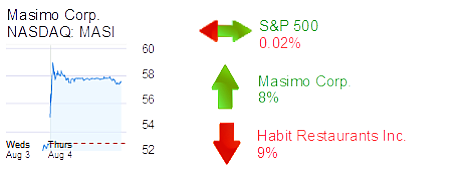 The S&P 500 was flat in midday trading at 2,164.33.
The Dow Jones Industrial Average was down 0.1% to 18,342.50.
The NASDAQ was up 0.2% to 5,168.69.
The yield on a 10-year Treasury bond was down 2.7% to 1.50%.
The price of gold was up 0.2% to $1,367.
HEALTHCARE
Irvine-based Masimo Corp. was up 8% to $57.52 and a $2.8 billion market cap. The pulse oximeter maker earned $30 million on revenue of about $173 million in its most recent quarter—increases of more than 50% on earnings and 11% on revenue—and raised full year guidance on revenue to $689 million from $677 million.
RESTAURANTS
Irvine-based Habit Restaurants Inc. was down 9% to $14.52 and a $377 million market cap. The fast casual burger chain earned $1.2 million on revenue of $71 million in its most recent quarter. Adjusted pro forma net income was flat.
RETAIL
Irvine-based Boot Barn Holdings Inc. was up 6% to $10.25 and a $271 million market cap on moderate volume. The company runs a chain of western apparel stores.
Irvine-based Tilly's Inc. was up 3.2% to $5.77 and a $165 million market cap. The teen apparel retailer said it would report earnings on Aug. 24.