Midday Stock Roundup
Monday, August 1, 2016
Share this article: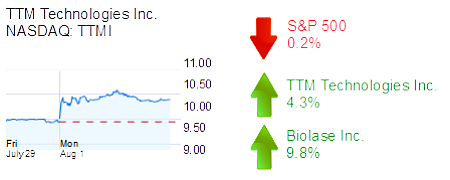 The S&P 500 was down 0.2% in midday trading to 2,168.85.
The Dow Jones Industrial Average was down 0.3% to 18,381.46.
The NASDAQ was up 0.3% to 5,177.83.
The yield on a 10-year Treasury bond was up 2.8% to 1.50%.
The price of gold was up 0.2% to $1,360.
TECHNOLOGY
Costa Mesa-based TTM Technologies Inc. was up 4.3% to $10.38 and a $1 billion market cap on high volume. The printed circuit board maker's shares had by midday traded at a rate four times its 90-day average.
HEALTHCARE
Irvine-based Biolase Inc. was up 9.8% to $1.24 and a $73 million market cap. The dental laser maker in its most recent quarter halved its loss compared with the same period a year ago. It lost $3.5 million on revenue of $13.8 million in that period compared with a loss of $7 million on revenue of $11.9 million, year-over-year.