California Republic Bank Acquired
Friday, April 29, 2016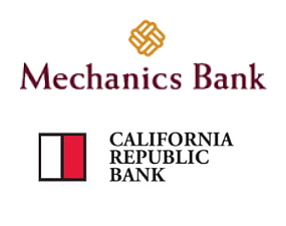 Irvine-based California Republic Bancorp has been sold to Mechanics Bank in Walnut Creek in a deal worth an estimated $330 million in cash.
Boards of both banks have approved the deal that pays California Republic shareholders $37.19 a share, a 50% premium over yesterday's closing price of $24.77. The deal is expected to close by year-end.
"There's very little overlap between the two institutions and many synergies," said California Republic President John DeCero, in a news release.
The Business Journal in November ranked California Republic the fifth-largest OC-based commercial bank with $1.5 billion in assets as of June 30, 2015, up 56%. It's assets as of March 31 were $1.8 billion.
California Republic employed 233 locally and 500 total across five Southern California locations. It also runs CRB Auto, which buys car loans from dealerships in 14 states and has some $3.6 billion in assets.
Mechanics Bank has $3.6 billion in assets and 30 branches in Northern California.
Shares prices of California Republic Bancorp soared 45% to $36 and a market cap of $281 million in morning trading.