PacSun CFO Departs
Wednesday, April 27, 2016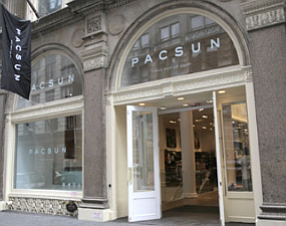 Pacific Sunwear of California Inc. named Ernie Sibal its chief financial officer after Chris Tedford resigned "to pursue other endeavors."
The Anaheim-based teen apparel and accessories retailer filed for bankruptcy protection April 7, and plans to convert more than 65% of a $90 million term loan into equity for creditor Golden Gate Capital, a San Francisco-based private equity firm. The deal calls for Golden Gate to provide another $20 million upon PacSun's emergence from Chapter 11 to "support its long-term growth objectives."
The retailer also got $100 million in debtor-in-possession financing from Wells Fargo Bank, and will be able to "draw capital as needed to manage seasonal swings in cash flow."
Sibal, who's been with PacSun since 2008, served as vice president of real estate, construction and strategy since September and has been "instrumental in the restructuring and management of the company's real estate portfolio."
The company said 17 employees have recently left its Anaheim headquarters including a vice president of inventory management, senior directors of financial planning and of marketing, a senior merchandise planner and a manager of human resources. It has since asked the bankruptcy court in Delaware to approve its Key Employee Incentive Program and a Key Employee Retention Program.
PacSun operates approximately 593 stores nationwide, and is looking to renegotiate its leases and reduce its overall occupancy cost of approximately $140 million per year.
Its revenue for fiscal year 2015 was about $801 million, down 3% from the roughly $827 million it reported for 2014.