Acorns Raises $30M Series D
Thursday, April 21, 2016
Share this article: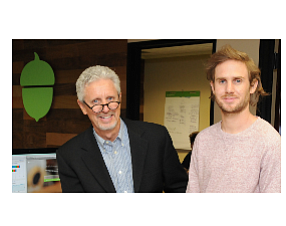 Irvine-based Acorns Grow Inc. raised $30 million in Series D funding that includes investments from Palo Alto-based PayPal and Rakuten Fintech Fund, the investment arm of an e-commerce company in Tokyo.
Acorns launched a smartphone app 20 months ago that offers micro-investing to the public. The app rounds up users' purchases to the closest dollar and invests the difference in a portfolio of index funds.
The iOS and Android apps have more than 850,000 users with about 75% under age 35.
Acorns was founded in 2014 by Orange County investment banker Walter Cruttenden and his son Jeff, and has raised $62 million to-date including investments from Greycroft Partners, e.ventures, Sound Ventures, Garland Capital, and MATH Venture Partners.