Midday Stock Roundup
Monday, April 18, 2016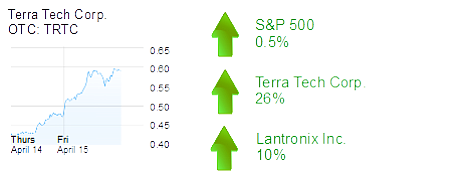 The S&P 500 was up 0.5% in midday trading to 2,091.28.
The Dow Jones Industrial Average was up 0.5% to 17,984.67.
The NASDAQ was up 0.3% to 4,953.36.
The yield on a 10-year Treasury bond was up 1.6% to 1.78%.
The price of gold was up 0.7% to $1,235.
AGRICULTURE
Newport Beach-based Terra Tech Corp. was up 26% to 59 cents and a $207 million market cap. Shares have risen six-fold year-to-date and the company, which makes hydroponic growing equipment and runs indoor gardens and marijuana dispensaries, recently filed for a $75 million mixed shelf offering.
TECHNOLOGY
Irvine-based Lantronix Inc. was up 10% to $1.02 and a $16 million market cap on high volume. The networking company had traded shares at a rate twice its 90-day average; it's set to report earnings on April 28.