Midday Stock Roundup
Friday, April 15, 2016
Share this article: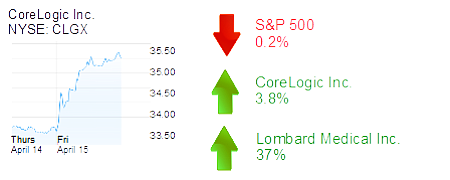 The S&P 500 was down 0.2% in midday trading to 2,078.19.
The Dow Jones Industrial Average was down 0.3% to 17,881.67.
The NASDAQ was down 0.3% to 4,931.57.
The yield on a 10-year Treasury bond was down 2% to 1.75%.
The price of gold was up 0.7% to $1,235.
SERVICES
Irvine-based CoreLogic Inc. was up 3.8% to $35.36 and a $3.1 billion market cap on above-average volume.
HEALTHCARE
Irvine-based Lombard Medical Inc. was up 37% to $1.71 and a $34 million market cap on high volume. The stent maker had traded shares by midday at about six times its 90-day average.
Irvine-based ChromaDex Corp. was up 11% to $4.90 and a $160 million market cap. The ingredients maker's shares are up about 25% this week, adjusting for a reverse 1-for-3 stock split the company completed this week.
FOOD
Santa Ana-based Evans Brewing Co. Inc. was up 25% to $3.25 and a $1.1 million market cap. The maker of craft beers and lagers began trading this week under the ticker symbol "ALES."